Ja, dere liker bare smilende, føyelige mennesker, der dere sitter og gjør fra dere i egen, samme kasse
16.8.17. Personlig 12-32 Publisert

Date: 2017-08-16 12:29 GMT+02:00
Subject: Beviser på at dere jobber i bakvendtland for å løse innvandringsproblemer, forårsaket av egen støtte til terrorister
To: forsvaret@mil.no, post@pst.politiet.no, 03030@nrk.no, 2200@vg.no, john.arne.markussen@dagbladet.no, redaksjonen@nettavisen.no, ContactRense@earthlink.net, kontakt@startsiden.no, knut-arild.hareide@stortinget.no, postmottak@jd.dep.no
Om å "drite i egen kasse"
I dag så jeg artikkel i enten VG eller Dagbladet, som jeg nå ikke kan
 finne på forsiden lenger, heller ikke ved Google-søk, hvor en 
partileder, som selv er innvandrer, sier at de fleste innvandrerne til
Sverige i dag er ikke ekte asylsøkere men velferdsimmigranter som 
er ute etter økonomisk vinning. 
For min egen del, som jeg sagt før, så bør vestlige myndigheter som
har samarbeidet med både Saudi-Arabia, Israel og andre IS-
støttende land heller slutte å krige der nede i Midtøsten for å få
tak i gassrørledninger og olje, for det er vi og de (våre allierte)
som forårsaker denne flyktningestrømmen, siden noen må betale for
gildet. (se nendenfor, om alle de arbeidsløse flyktninger). Politiefolkene i
Sverige er helt utmattet, noe dere selv rapporterer, fra de populært kalt
"no-go" -soner hvor det bor innvandrere, og klasseforskjellene øker også
her i Norge. Stakkars norsk politi som dere har servert på sølvfat med
deres politske vridde rapporterting (og taushet om ting dere burde rapportere om)
hvem "terroristene" og "trusselen" i samfunnet er. Skulle ikke forundre meg om
dere har plassert også meg der, men jeg stemmer ikke på noen politikere,
for de er like løgnaktige som dere, ja til og med de såkalt "kristne" politikere
som slikker Israel, rabbinere og jødedom opp etter ryggen, og gjør som Jesus sa
om fariseerne, de hvitkalkede graver, fulle av dødningeskaller (likene) som reiser
land og strand rundt (til og med på "kristne" konferanser) for å sanke "proselytter";
tilhengere, fange sjeler, som til slutt kommer til å fortjene helvete akkurat like mye,
om ikke dobbelt opp, som de selv (politikerpredikantene). Husk at Jesus sa:

"Min kongsmakt (mitt rike) er ikke av denne verden". Hvor ulærd i bibelsaker
går det egentlig an å bli, dere mannlige pastoremner på talerstoler som ber
kvinner holde kjeft, med et Pauli ord, og attpå til gir dem skaut i tillegg til munnbind,
og bruker oss som gratisarbeidere (slaver), bak boksjappene, cafeene i "helligdommen"
og for så be oss om å vaske toalettene etter konferansene, uten lønn "som for Gud",
og forventer full oppvartning på alle måter helt til kvelds og neste morgen med et
smil? Vi har det omtrent som damene i Afganistan på det område. Vi får ta "tits",
men er "tittelløse" i menighetene, og er vi heldige får vi lov til å "titte" inn i en verden
dere skjuler for oss, med misbruk av bibelvers, i vårt "f…."-land.
Vi har gjort oss selv til mordere, og er i bakvendtland og prøver å fikse ting.
Historiker Ian Greenhalgh om Israels tyrkiske røtter
Hvis David Duke, Knut Hareide, Kjell Magne Bondevik, Jeff Rense, Texe Marrs, våre kristne aviser og ledere, og dere nyhetsmedier (Aftenposten og TV2 sendte mine eposter i retur); vi alle, til og med sosialist Gordon Duff, imamene og rabbinerne hadde vært lure, så hadde vi skjønt at vi
bare driter i egen kasse, hvis man ser nærmere på hvem det er som egentlig tjener på denne politikken, og hvem sine liv vi har vært med på å ta, indirekte eller indirekte. Det er alt man trenger å vite:
Historiker Ian Greenhalgh fortelle ham hvor landet ligger. 
Men det er jo bare levebrødet deres, jeg skjønner det. Jeg er bare en uutdannet latsabb for dere,
med omsorgslønn på 5000 kroner, mens de til og med prøver å ta fra folk som oss pensjonspoengene. Kanskje trengere dere trygde til minstepensjonistene for å sponse mer terror?
hilsen,

———- Forwarded message ———-
From: 
Date: 2017-08-07 17:23 GMT+02:00
Subject: Masseinnvandringstaktikk avslørt: CIA er bakmennene
To: forsvaret@mil.no, post@pst.politiet.no, 03030@nrk.no, 2200@vg.no, john.arne.markussen@dagbladet.no, redaksjonen@nettavisen.no, ContactRense@earthlink.net, kontakt@startsiden.no, knut-arild.hareide@stortinget.no

Sylvi Listhaugs Department sendte min epost om å "feie for egen dør" angående de 18.000 organer  – som israelsk etterretningstjeneste; IS, har uttalt at de ikke ønsker skal mislykkes i Syria selv har høstet fra døde syrere –  i retur til meg. Jeg er den som er lorten foran deres dør, som de måtte feie vekk.
Det viktigste i hele dette blogginnlegget som er kopiert opp i sin helhet her er linken under "taktikk". Der skrev jeg til journalist Jeff Rense, som aldri har svart og meg og kanskje ser på meg som en tulling enda jeg advarte ham om Trump, og fortalte ham om Gordon Duffs artikkel hvor CIAs taktikk bak masseinnvandringen til Europa; som de selv sørger for, er avslørt. Først sender man inn ekstremistiske islamister (som ikke alltid er muslimer, men agenter; leiesoldater og til og med av jødisk opphav). Deretter sender man inn "leiesoldathærer" for å "ordne opp". Hva som da skjer er at landet som er utsatt for ekstremistisk terror og kriminalitet overtas av kreftene som står bak CIA. Vi mister vår suverenitet som nasjon. Les stykket om Kangas som ble myrdet selv, og hvordan Donald Trump er med i bildet. Dere tror det kanskje ikke, men avsløringene er der sort på hvitt, og det er ikke få som har mistet livet for å ha tystet på dem. De fengsler folk som avslører dem, som er deres mildeste straff. Hvorfor kan dere aldri tenkt over alvoret om Norges USA og NATO ryggslikking? Trenger vi amerikanske baser på norsk jord? Er vi allerede en amerikansk delstat? I fall eposten blir avkuttet limer jeg den inn her.
(Jeg la til noen ord her for blogglesernes skyld).
TAKTIKK AVSLØRT:
CIAs våpen er å skape kaos (først å selv sørge for å sende militante, ekstreme muslimer til land etter land, godt blandet med egne folk, for så å komme som "redningen". Veterans Today har forklart dette i artikkel linket til på denne siden):
NORSK FORSVAR ER PÅ LAG MED MORDERE SOM ELSKER KRISTENMANNS BLOD
Jødiske organisasjoner kjemper mot anerkjennelsen av folkemordet på Armenias kristne
Steve Kangas, Until You Know His Work, You Will Never Understand Who is Behind Trump
By Gordon Duff, Senior Editor on July 14, 2016
The Origins of the Overclass
[ Editor's note: Steve was the real deal, former CIA, Berlin desk with Army intel cover, a Russian speaker who served at the height of the Cold War. What you will read below was enough to get him murdered in the middle of the day while "standing on the plastic" in the offices of Koch/Trump/Scalia/Adelson cohort, the now dead Richard Mellon Scaife, the man who invented the Clinton family conspiracies, the murder lists, all of it, that have kept the undiscerning looking looking away from the Bush crime family and their secret society friends for nearly two decades.
Steve was very much the real deal, someone from inside the CIA openly murdered without even the bother of staging a coverup. Since it was the father of the conspiracy theorists himself responsible for the crime, Richard Mellon Scaife, not one word was said about it by anyone but… me. Why is that?
Les om CIAs "masseinnvandringstaktikk" og "bidrag til terrobekjempelse"…
http://www.veteranstoday.com/2016/07/14/steve-kangas-until-you-know-his-work-you-will-never-understand-who-is-behind-trump/
---
Når skal frimurersatanist Sir Albert Pike fjernes fra det amerikanske justisdepartementsplen?

Svensk slagord dukket opp i Charlottesville – dagsavisen.no
For 2 dager siden – Merkelig, sier ekspert på høyreekstreme miljøer i Sverige, … Det har vært forbindelser mellom for eksempel David Duke og svenske grupper …
Vebjørn Selbekks kone i strupen på Støre: «Hans handlemåte satte mine barns, min manns og mitt liv i fare»
Disse nabolagene tømmer for beboere med norsk bakgrunn
https://www.aftenposten.no/osloby/i/LV4z4/Disse-nabolagene-tommes-for-beboere-med-norsk-bakgrunn
Nå vil flere blå partier bremse innvandringen til Sverige – Aftenposten
6. feb. 2015 – Sverige må ta imot færre flyktninger og heller sørge bedre for dem … Nå vil flere blåpartier bremse innvandringen til Sverige …. Partiet foreslår reformer som minsker kommunenes mottaksproblemer og får innvandrere raskere ut i jobb. … Sist, men ikke minst, vil Folkpartiet skjerpe kravene til økonomi og …
162 000 asylsøkere kom til Sverige i fjor. Under 500 fikk jobb …
31. mai 2016 – Bare 492 av de 162 000 fikk jobb, viser tall fra Migrationsverket. Her kontrollerer politiet køen av nyankomne flyktninger ved Hyllie stasjon …
Hvorfor er satanist og frimurerguruen på plenen til USAs justisdepartement ikke fjernet?
Det er kanskje fordi "det føderale" er symbolet på ranerne?
Forskjellen på "Federal" og "Conderate"…  Hva sa Robert Lee (som de vil fjerne bysten av)?
"I yet believe that the maintenance of the rights and authority reserved to the states and to the people, not only essential to the adjustment and balance of the general system, but the safeguard to the continuance of a free government. I consider it as the chief source of stability to our political system, whereas the consolidation of the states into one vast republic, sure to be aggressive abroad and despotic at home, will be the certain precursor of that ruin which has overwhelmed all those that have preceded it." -Robert E. Lee in Correspondence with Lord Acton
The Civil War was about the South´s right to keep their resources and to resist the encroachments of the Federal Government over the State´s Sovereign rights as defined by the Constitution and delineated in debates before the Constitution was signed.
Satanisme i USAs offentlige rom (statuer, bygg)
Mysterious Monuments – Texe Marrs
Mysterious Monuments is the first book ever to reveal that Satan is now building what, for him, is to ominously become the "perfect world," the ideal world, ..
Mysterious Monuments … – Texe Marrs
Are mysterious monuments part of a Grand Design? Are the Illuminati elite using satanic architecture and magic to seduce men's minds and catapult humanity …
Sex Monuments of the Illuminati & Origins – Satan´s Religions …
Original Title: Baals Shaft & Cleopatras Needle (2009) –
Sex Monuments of the Illuminati & Origins – Satan´s Religions Exposed – Texe Marrs
Hverken Republikanere eller Demokrater krever satanistarkitekturen fjernet…
For de som lurer, slik som jeg, trenger dere ikke lure lenger, for den britiske historiker Ian Greenhalgh forklarer hvem "storkarene" bak Republikanerne og Demokratene egentlig er. Ingen grunn til å ha indentiteskrise. Begges sponsorer spores tilbake til "de hellige helliges land", men venstresiden er ikke sionister: De ender opp i samme land, og driter i samme fuglekasse (er uvitende partnere), noe for muslimske demokrater å tenke over?:
Trumps rikdommer
http://www.veteranstoday.com/2017/08/12/trumps-treasures/
FN skal få det gøy når de skal prøve å produsere enda flere beviser på noe Russland kan motbevise
http://www.nettavisen.no/nyheter/utenriks/syria-gransker-nok-bevis-til-a-dmme-assad-for-krigsforbrytelser/3423363441.html
Jim Dean og Michael Lane (ingen smårollinger)
The Debate – Iran Defense Doctrine
By Jim W. Dean, Managing Editor on August 14, 2017
… with fellow guest Michael Lane
[ Note: The hidden story in Iran´s careful response to new US sanctions was its stepping out front and center with charging the US with supporting state-sponsored terrorism, something long overdue.
I would have gone a bit further, in getting a discussion going at the UN about taking a look at their membership requirements for those involved in such things. Last time I looked, you could be fired from your job for not disclosing all of your past terrorist attacks on your employment application.
Les resten og se intervju:
http://www.veteranstoday.com/2017/08/14/the-debate-iran-defense-doctrine/
Det finnes to typer kurdere:
De onde som kjemper mot IS (og ikke gis støtte, se artikkel lenger ned på siden)
og de gode som kjemper sammen med IS.
Has the US lost the war in Syria? The blame game begins
By Jim W. Dean, Managing Editor on July 28, 2017
THE US HAS OFFICIALLY LOST THE WAR IN SYRIA: REPORT
Written by Darius Shahtahmasebi; Originally appeared at TheAntiMedia.org
… via  Southfront
Being a jihadi is no longer as much fun as it used to be
Utdrag;
The US' and Gulf States' terror sponsoring, and Turkey's callous looting made an easy decision for most Syrians as to whom the bigger evil was. And this was why we saw the huge push to get Assad to leave prior to elections.
The US knows he is going to win overwhelmingly. So the focus now should be do the State sponsors of terror have to pay the Syrian people reparations, and if so does their exist a forum to really determine such.
Darius correctly points out, as I have, and the CF does not, that the US has Balkanized Syrian with its replacing ISIS with the Kurds, to have a real claim to the land in the north. The US finally jumped on the better horse, and stopped beating the dead horse with "Assad must go".
Les resten:
http://www.veteranstoday.com/2017/07/28/has-the-us-lost-the-war-in-syria-the-blame-game-begins/
USA og Tyrkia er veldig flinke til å kvitte seg med kurdere i 'kampen mot IS' – USA lærte opp den harde kjerne av IS-krigere
US failed to provide 'agreed' air cover to Turkish & FSA forces attacked by ISIS – report
The US-led coalition did not provide previously-agreed air support to Turkish forces and Free Syrian Army rebels when they were attacked by Islamic State militants outside the city of Jarablus in northern Syria, losing several troops wounded in action.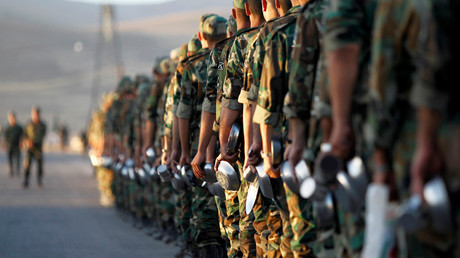 A Free Syrian Army (FSA) unit and Turkish troops came under heavy machine gun fire from Islamic State (IS, formerly ISIS/ISIL) in a village located nearby Jarablus on Tuesday evening, Anadolu news agency reported on Wednesday.
Taking heavy enemy fire, Turkish air forward observers requested immediate support from the NATO airbase at Incirlik, from which the US-led coalition's aircraft operate. The agency's report also said that some US aircraft were already airborne for a regular patrolling mission.

Les resten:
http://www.veteranstoday.com/2016/09/01/us-failed-to-provide-agreed-air-cover-to-turkish-fsa-forces-attacked-by-isis-report/
Pakistan og Syria: Sentrum for det store spillet: Den egentlige årsaken til Syria-krigen er herved oppklart
Pakistan and Syria: Centers of the Great Game
… by  Sajjad Shaukat for Veterans Today
Hans J. Morgenthau opines, "The true nature of the policy is concealed by ideological justifications and rationalization. Therefore, the ideology provides a mask behind which the ulterior motives are concealed…there is a close relationship between interest and ideology…the annexation of the backward states by Great Britain and France as their colonies was described as educating, civilizing and humanitarian mission, a sort of white man's burden, while the real objective was economic exploitation of the former. Annexation was an act of imperialism.
But to disguise it humanitarian ideology was advanced…one of the significant aspects of ideology is that it can be described as a cloak for real foreign policy objective."
Palmer and Perkins write, "Just as power became the instrument of ambitious nationalism and state's leaders, it has now become the tool of ideologies…ideologies, in fact, are futile source of international conflict…they can be used to obscure the real facts of a situation or the real motives of ambitious leaders."
Karl Mannheim also uses ideology in this sense by saying, "In this form the ideas are more or less conscious disguise of the real nature of a situation."
Hitler and the Nazi Party had come to power with the avowed purpose of conquering colonies and foreign lands for the Germans. They must have a "living space"-'Lebensraum' as the Nazis called it for the "living surplus German population and find raw materials and markets for German industrial goods".
Religious fervour inspired by 'Hitlerite' Germany, which was supported by the country's industrial and financial magnates, wanted to establish its domination first over Europe and then over the entire world.
Similarly, after the 9/11 tragedy, by using the ideologies of colonialism and neo-imperialism (Indirect control), the US-led Western allies attacked and occupied Afghanistan and Iraq, while compelling other Muslim countries and Pakistan to join Bush's phony war on terror. Under the cover of freedom and democracy, the aim of democratizing Afghanistan and the Middle East was propagated by the United States.
But, the real motive behind was to get control over the gas and oil of Central Asia, the Caspian Basin, Iraq and other countries of the Middle East. The pretexts of Osama Bin Laden and Weapons of Mass Destruction were also used in case of Afghanistan and Iraq respectively with a view to rationalizing the objective. While Bin Laden had denied his involvement in the 9/11 catastrophe and no WMDs were found in Iraq.
Les resten:
http://www.veteranstoday.com/2016/06/19/pakistan-and-syria-centers-of-the-great-game/
Jødisk rasisme:
Jackie Walker vs The Zionist Inquisition
By Stuart Littlewood on November 28, 2016
And how self-appointed 'thought police' made Methodists cancel a Palestinian fund-raising supper
by Stuart Littlewood
 "Sacked Momentum vice-chair to address anti-Israel event… Labour activist Jackie Walker to speak at Palestine Solidarity Campaign church event," screeched a Jewish News headline.
But once again the paranoid West Jerusalem media got it wrong. This was no anti-Israel event – it was pro-Palestinian supper with proceeds going to MAP (Medical Aid for Palestinians) and the Palestinian Trauma Centre, both of which work flat-out dealing with the horrors inflicted by the Israeli regime.
Les resten:
Jackie Walker vs The Zionist Inquisition
Hilsen,
lyttlitt.blogg.no
Det gir meg mer å lese tegneserier enn norske aviser. Go West, Go South, Go anywhere, on your highway to Hell i Trøndelag (amerikanske soldater).
http://www.gocomics.com/nonsequitur/
Billy Joel om det å "Go South", som betyr omtrent det samme som å "Go West", alt ettersom hvem det er som snakker:
The Stranger [Lyrics] Billy Joel
GO WEST Come on, come on, come on, come on (Together) we will go our way (Together) we will leave someday (Together) your …
Lyle Lovett & His Large Band – That´s Right You´re Not From Texas
Kristne Israelsstøttende gammeltestamentlige fredsduer?
Matteus 23
 14 *Ve dere, skriftlærde og fariseere, dere hyklere! Dere eter enker ut av huset og holder lange bønner for syns skyld. Derfor skal dere få desto hardere dom.?
    15 Ve dere, skriftlærde og fariseere, dere hyklere! Dere drar land og strand rundt for å vinne en eneste proselytt, og når dere lykkes, gjør dere ham til en som fortjener helvete dobbelt så mye som dere selv.
    16 Ve dere, blinde veiledere,…
Lyle Lovett & His Large Band – Church